Moon Nurseries has an abundance of tree form Pee Gee and Tardiva hydrangea paniculatas right now! 
Commonly known as Hydrangea Grandiflora, the Pee Gee hydrangea paniculata is a dazzling and showy flowering tree shrub that can grow quite large under optimal conditions. The Tardiva hydrangea is a smaller relative of the Grandiflora, and it's white flower heads are more loosely packed with sharper points. Both varieties have oval shaped, serrated dark green leaves that contrast nicely with the abundant white flowers.
If long lasting opulence is what you're looking for in your garden, look no further than Hydrangeas…
Boasting robust conicle blooms that are hardly pee wee in nature, the Pee Gee hydrangea can be grown as a single stemmed tree or a multi stemmed bush depending on how it is pruned in adolescence. To grow as a single stemmed tree, simply select the strongest and straight stem as the tree trunk and prune the rest. The young trunk will need a stake to support it in the early years until it grows thick enough to support the weight of the upper branches.
As some of the most cold hardy species, Tardiva and Pee Gee Hydrangeas will keep your garden bursting with a lush magnificence well into November. Their white, sterile flowers start off greenish with new growth, blushing into a rosy pink with maturity before eventually fading into a tan/brown color for winter.  The flowers cut well and can easily be dried to create beautiful arrangements for the house year round.
The size of the flowers may be manipulated and larger blooms can be achieved by cutting back to a few buds in spring to encourage the flower's energy to be put towards vigorous growth of fewer buds.  With conscientious pruning, the Pee Gee hydrangea can achieve flower clusters reaching between 12-18" in length!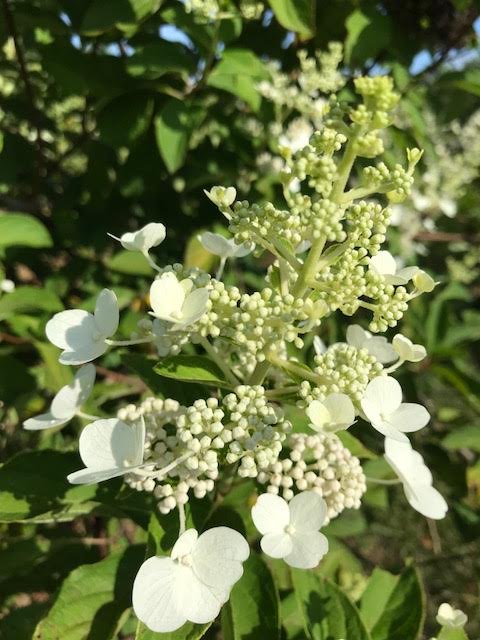 Hydrangeas prefer moist, well-drained soil and full to partial sun. Care must be taken not to let the soil dry out on particularly hot days where they do not have shade. Vigorous growers, they are capable of gaining up to 24 inches in height per year! They only need to be fed twice per year, preferably during early spring, shortly before new growth and again after blooming ends. Though it will tolerate many types of soils, it prefers a more acidic composition. Consider applying mulch to the base of the tree to help lock in moisture and avoid wilting during the hottest days.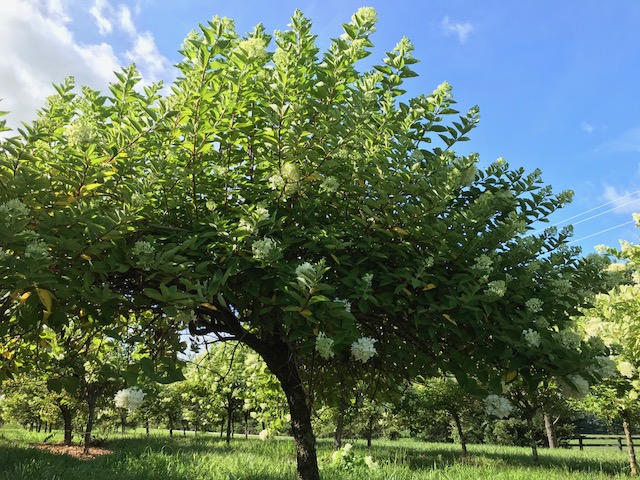 Under optimal conditions, the Grandiflora can reach a height and width of 10-20 feet.  Alternatively, the Tardiva variety reaches heights of 8-12 ft, making it a perfect small tree for a perfect small place! Native to Japan and China, they are an excellent choice for urban environments as they are highly resistant to air pollution.
Here at Moon Nurseries we have plants for every place and every purpose, so whether it's a small rooftop garden in the city, or a sprawling estate in the countryside, we've got you covered.