Introduced the US less than 20 years ago by Frank J. Schmidt and Sons, Co, the Zelkova serrata 'Musashino' has made quite a name for itself as an ornamental and hardy urban dweller. Its veracity within notoriously inhospitable urban environments is what secured it's place as the unequivocal selection of the SMA's Urban Tree Of The Year in 2016.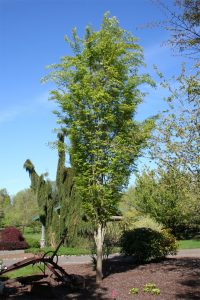 At full maturity, it can reach a height of 45' with a maximum spread of 15'. The Musashino Zelkova could be fondly referred to as the supermodel of urban trees. A figuratively high cheek-boned specimen, when planted in numbers in the narrow concrete gaps that flank even narrower streets, it transitions a space into a sort of runway.
Planted on its own, it has been described as an 'exclamation mark' upon a landscape… When planted in numbers, it draws the eye into the center of designated focus with its uniformity and high limbed grace, rendering a succession of aesthetically pleasing linear lines, allowing the human and vehicle traffic underneath a girthy canvas in which to express itself underneath.
Seemingly impervious to numerous types of environmental adversity, whether it be in the form of unsympathetic shop owners or merely symptomatic smog and road salt spray that are a norm of growing up in a concrete jungle, the Musashino Zelkova continues to thrive.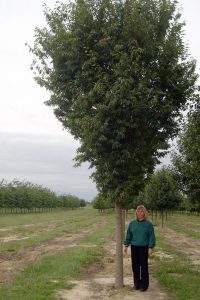 Prior to being introduced to the US, Musashino Zelkova has been an extensive track record of success in the tightly constricted growing spaces of various cities throughout Japan and Korea. It's shown great fortitude when planted in areas with both heavy foot and vehicle traffic with bustling business activity.
Its conservative wingspan doesn't necessarily translate into trunk span, and the Musashino Zelkova requires as much soil volume as an equally tall tree. It grows quickly in its youth and is resistant to the elm leaf beetle and Japanese beetle.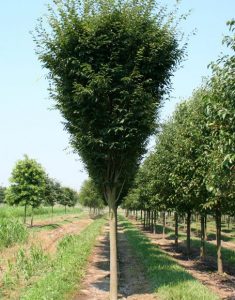 It harbors the autumn spirit in a manageable way with serrated leaves of medium green that are a mere 2 inches in length. The colors displayed are classic ones of red, rust, and yellow-orange. Management of the falling leaves is an easy task because of their petite nature. It is tolerant of both alkaline and acidic soils and will thrive in partial or full sun.
The Musashino Zelkova is a swift grower and has shown zero die back when planted in areas with temperatures plummeting to -20 degrees, and despite that near tundric hardiness, it continues to thrive on the opposite end of the spectrum where the temperatures reach extreme heights.
Recently, 20 specimens were planted on a busy street in the little Italy pocket of Providence, Rhode Island. In a tightly competitive space, amidst the constant bustle of restaurateurs and shop owners, it's an ultimate fight or die environment for a new planting. The Musashino Zelkova thrives and is here to stay.
We are proud and excited to offer this unique tree and for what it has to offer for our urban forests for many years to come. For more inquires please contact moon nurseries.
View the Zelkova serrata 'Musashino' on our website here.